Items From the Perleburg and Searles Families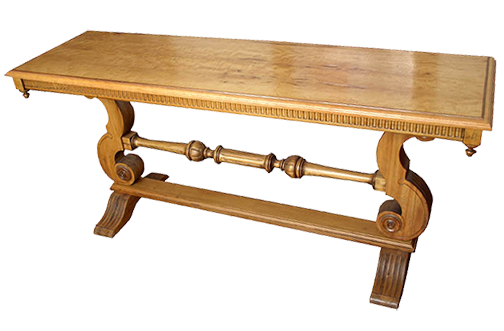 Library Table
The library table was purchased at auction – not in the best of shape. The original wood at the top had been replaced with plywood. The shop that I sent it out to found pear wood. In restoring it was not sanded. Cut glass was was used to shave the top to bring out the grain – an old world technique.
Fainting Couch
A fainting couch is a couch with a back that is traditionally raised at one end. The back may be situated completely at one side of the couch, or may wrap around and extend the entire length of the piece much like a traditional couch. However, fainting couches are easily differentiated from more traditional couches, having one end of the back raised. Minnie Perleberg had a gray fainting couch in their home in Kaukauna – used mainly by women. One 19th century theory was that their corsets were too tight.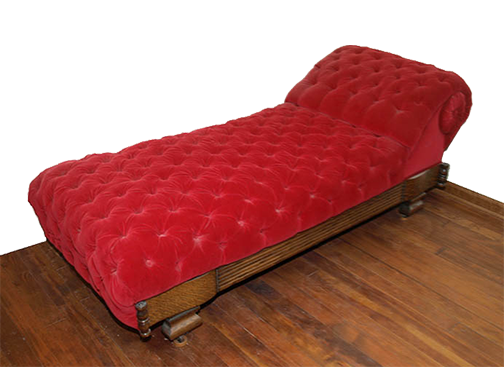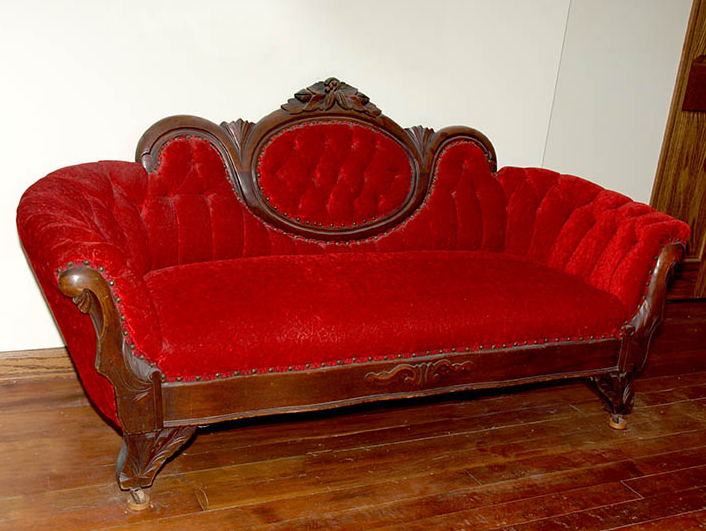 Hand-Carved Victorian Sofa
Swept-out arms, curved wood, carved details, rolled and pleated upholstry, all show typical Victorian style. Minnie Perleberg's house was full of Victorian furniture. When she passed away, Quadine saved as much of the furniture as she could. Most of the rest was just left at the curb as it was out of style. Mom said she cried at the sight.
Eastlake Victorian Loveseat
A very popular style of the time. Sturdy, affordable and nicely designed. Martha Searles got this Eastlake loveseat from her father as a wedding present. In her later years she had it shipped to Ken and Quadine Searles. It ended up in the overhead of the garage and dry rotted. Eventually the Searles family decided to have it restored and were quite happy with the result.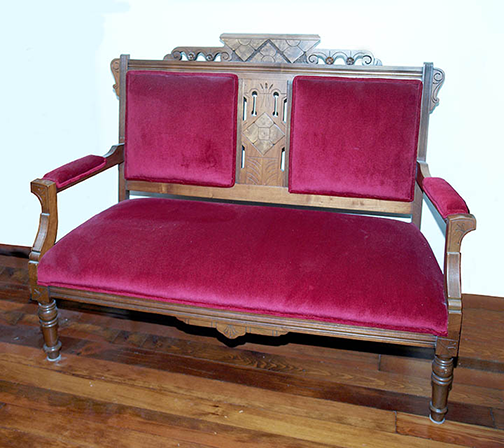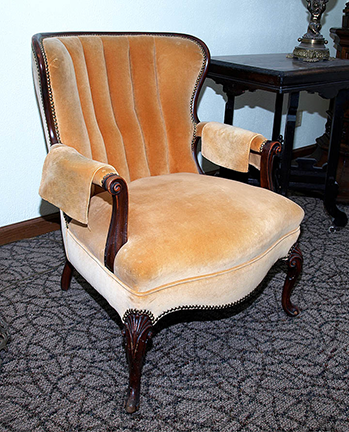 Classic Upholstered Wing Chair
In 1912 the average 21-year-old male was 5 feet 8.25 inches tall. Now the average male in the US is 5 feet 9.9 inches tall. In 1912 the average 21-year-old female was 5 feet, 3.75 inches tall. Now the average 21-year-old female in the US is 5 feet 4.3 inches tall. The seat is 15 inches off the floor—great for 1912.
Butler Pantry Cabinet
A combination unit with drawers and a desk with a fold-down writing surface. I picked it up at an auction not realizing how heavy it was. The veneer was loose on the top front drawer. That got sent out as things can go amiss there. I got the water stains out of the top without wrecking the finish.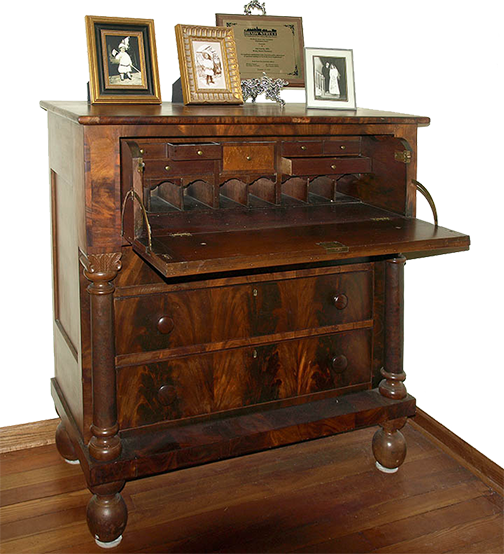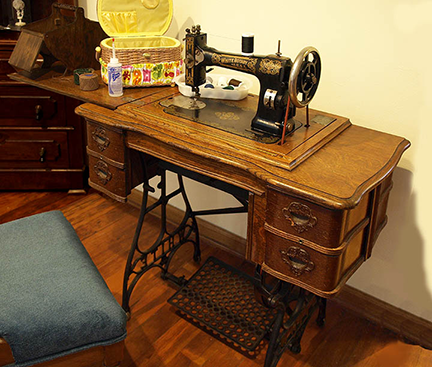 White Rotary Treadle Sewing Machine
By 1915 every household in America had a treadle sewing machine. Most mom'a made the clothes. The well-to-do used a seamstress. I bought the machine froze up – belt broken. The belts are leather and use a clip to hold them together.
Bride's Bowl
The vase was normally given as a wedding gift. Along came kids. As you might have guessed not many survived.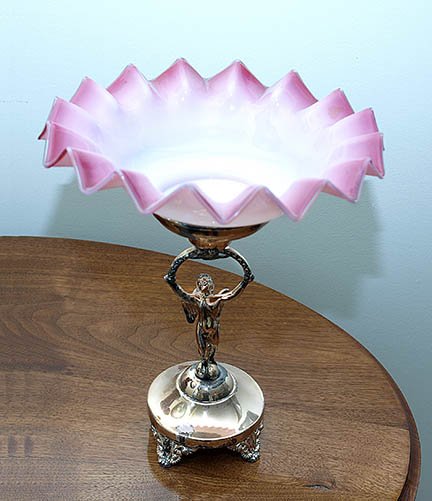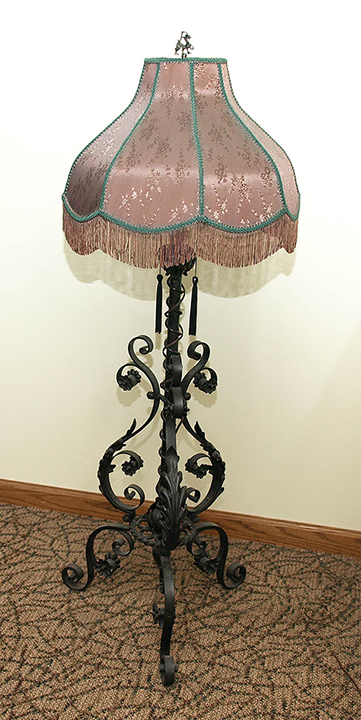 Victorian Floor Lamp
The floor lamp is hand hammered wrought iron – original. The shade not.
Decorated Glass Oil Lamp
This Gone with the Wind double hurricane lamp dates back to an era in Kaukauna when the City had electricity and the rest of the surrounding farm area did not. The City got electricity in 1907 and the farms in 1930 when the Rural Electrification Act was passed.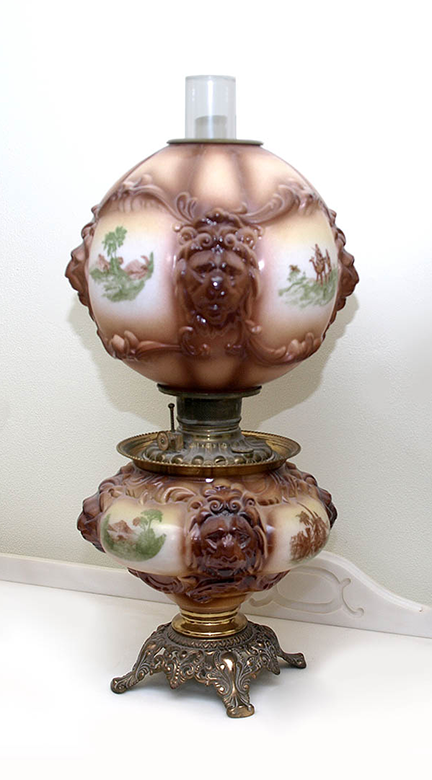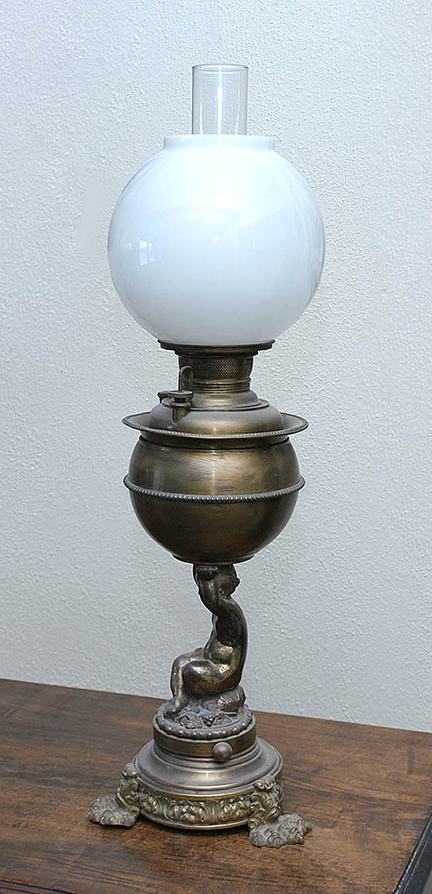 Oil Lamp
Artistic cast base with standard globe and chimney.
Victorian Doll
Every pint sized kid like Quadine had their dolls – a different world. Here is a very old Victorian doll with hand-made clothes and hair.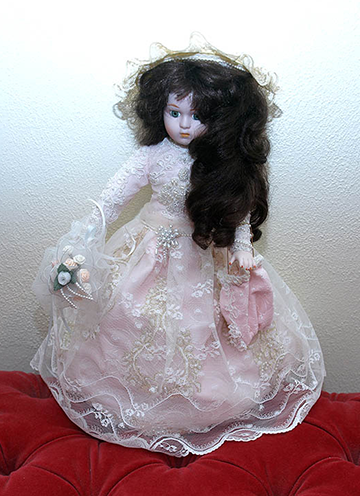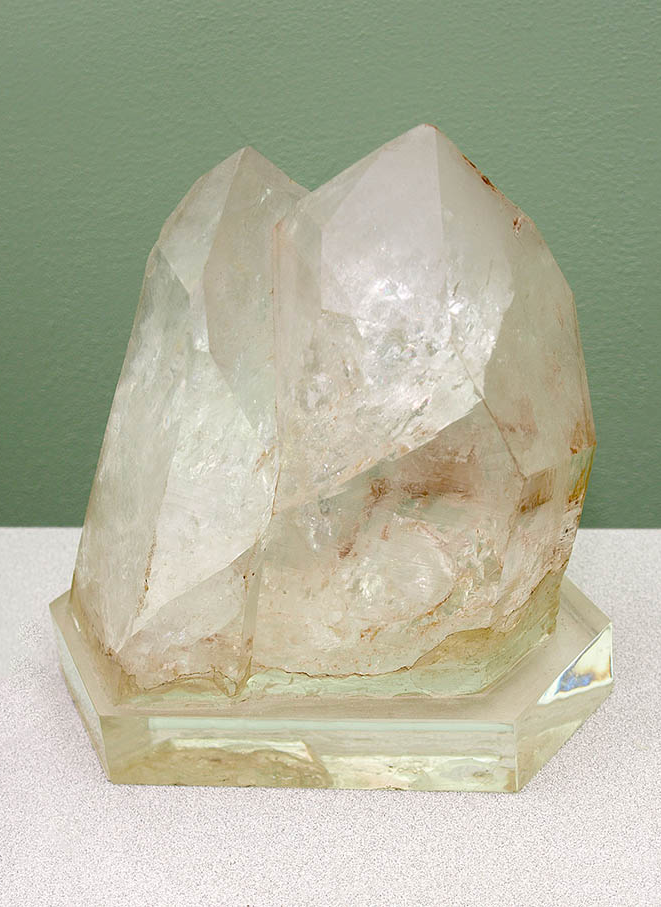 Quartz Crystal
Mom and Dad were members of the Wisconsin Geological Society. This quartz crystal weighs 20.6 lbs and is 9 inches high not counting base.
Poster
Unlike large theaters with organs, smaller theaters like in Kaukauna would have had an upright piano that someone would have played the score to go with the movie. When the movies changed to sound, the musicians were no longer needed.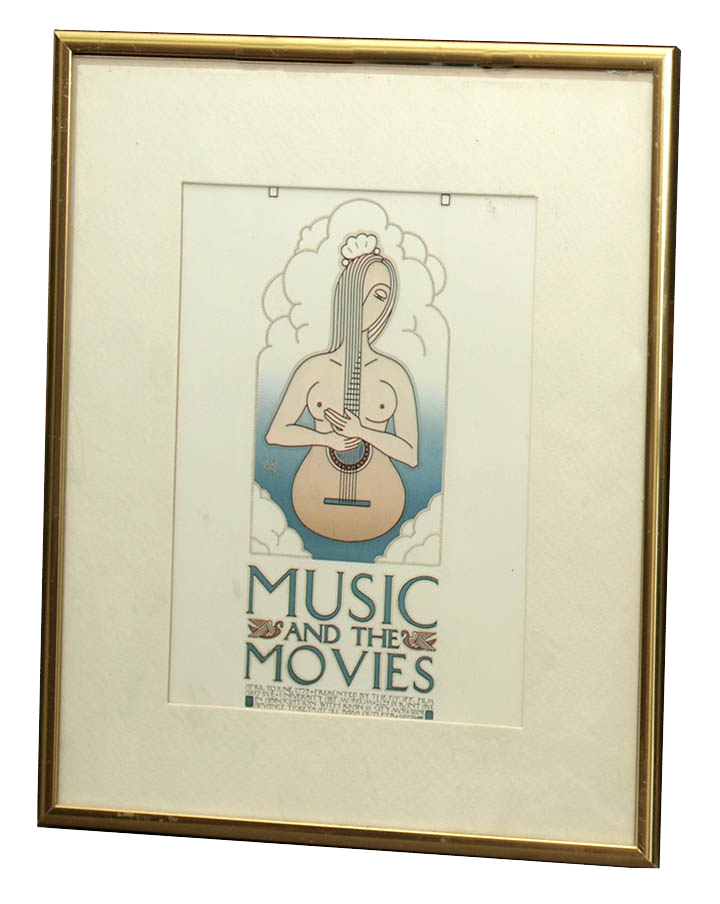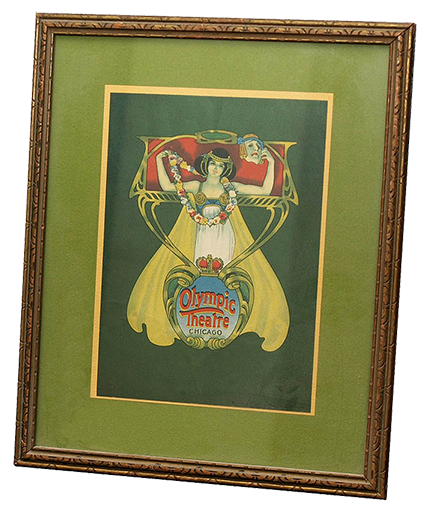 Olympic Theater
Small hand outs were typical of the early theaters. In the early theater dish days, grocery days, amateur nights were all part of the theater.
Mary Pickford
I bought the original in bad shape, water stained, had it restored as best as possible.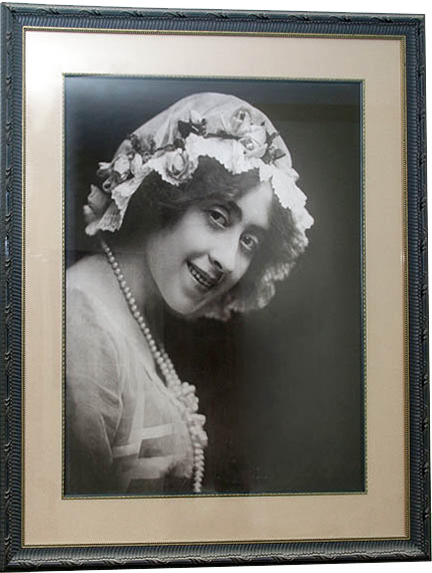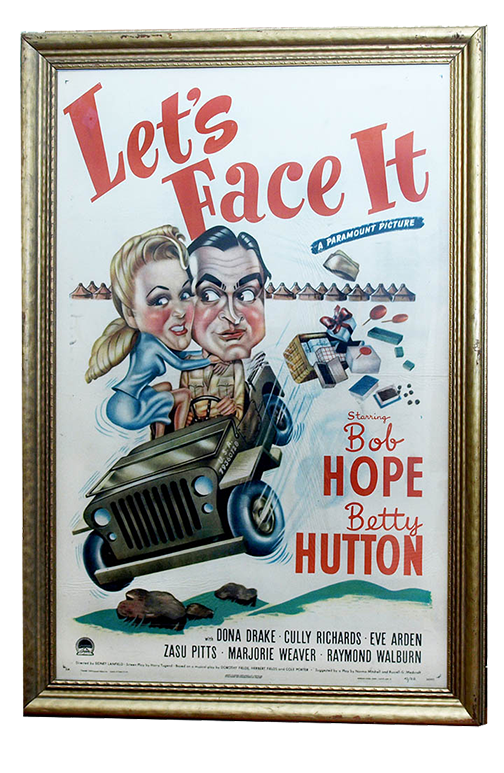 Bob Hope Poster
Let's Face It, 1943. In the bottom corner there is a hand written 43/312. That helps to authenticate that the poster is an original.
Roger Rabbit Poster
1988 poster "Im Not Bad." I am just drawn that Way" has gold and silver in it – much needed for my house.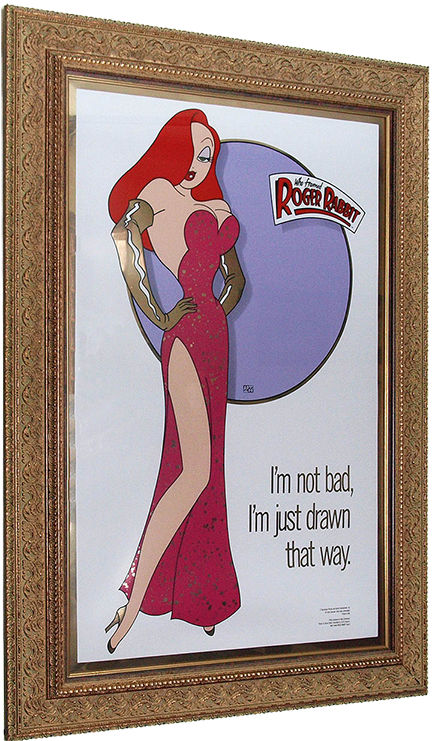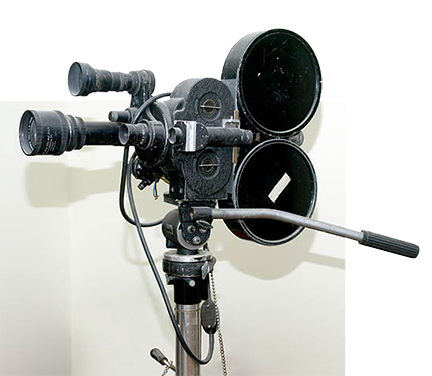 Movie Camera
Bell & Howell Model 71 35mm movie camera dates back to about 1935. It has a 400-foot "mickey mouse" ear on the back that holds 400 feet of film.
Coloring Photos
This was mom's tint box used to tint b/w photos. The photo of herself on the left she also hand-colored.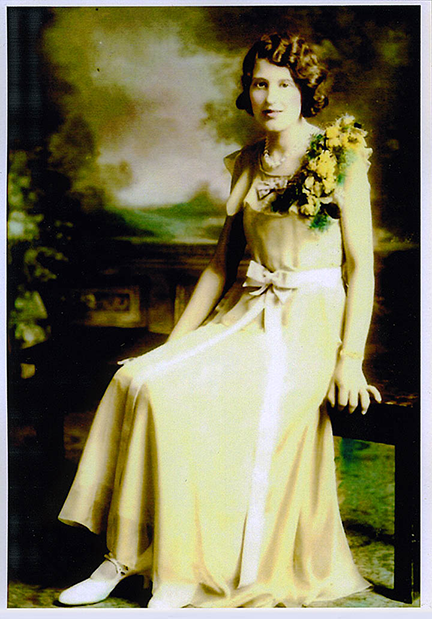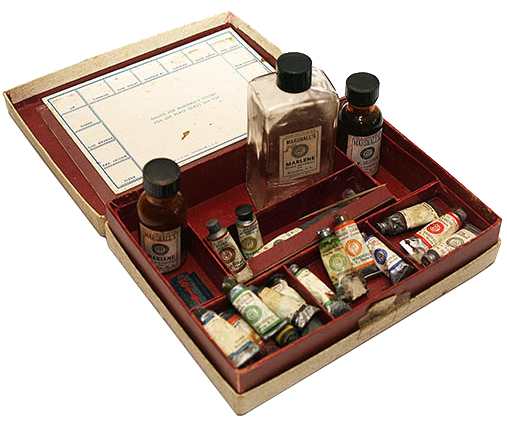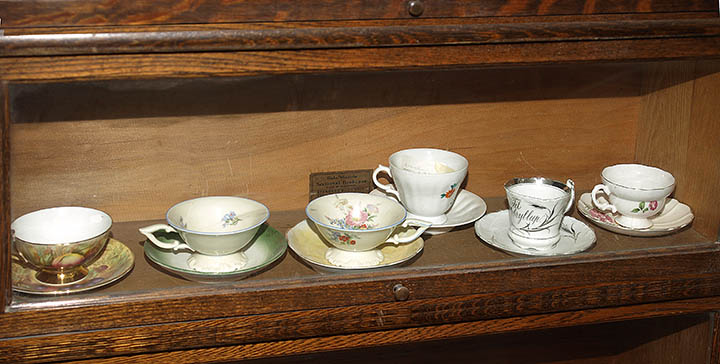 Tea Cups
Mom collected tea cups. She said that the best cups had four legs. There are also mustache cups in the collection. They are kept in a "lawyer's bookcase" that came from one of their uncles.
Pottery/Vases
Mom liked to pick up small vases/statues/ceramic dogs ending up all over the house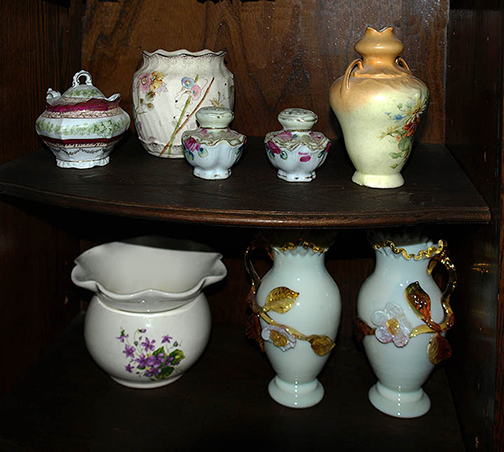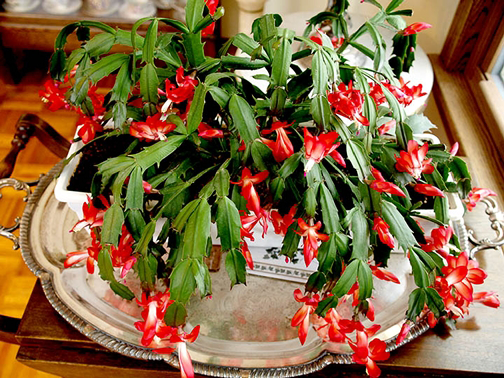 Christmas Cactus
Mom had been growing this at her retirement home. One day when I stopped over mom was a bit down in the dumps. "Now I have a criminal record" she said. Mom was called into a manager's office at the retirement complex. She had to sign a paper admitting that she had been taking cuttings from Christmas cactus plants in the hallway lobby. She had to promise that she would take no more cuttings — that's the story of mom's criminal record.